Tuesday, October 6, 2020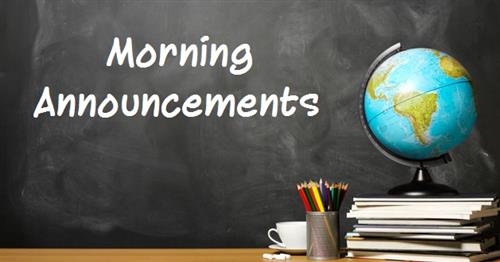 ---
Central High School
Announcements for Tuesday, October 6, 2020
The mission of Central High School is to provide all students with educational opportunities through a challenging curriculum which meets the needs of a diverse school community.
Teachers -- Please check dress code, have students toss all food and drinks from outside vendors, spit out gum and remove all head gear. Put cell phones away as you enter class. Students may NOT wear earbuds or headphones in the hallways.
NEW NEWS
The Central Interact Club, which is a division of the Carrollton Rotary club, has organized a competition between first period classes. We are raising money to eradicate polio. The competition will begin Monday, October 5 and end Friday, October 9, giving a week for first period classes to raise money to stomp out polio. The first period class who raises the most money will receive a Dunkin Donut party!
Students interested in participating in basketball cheerleading can be picked up paperwork this week in between classes in 403. Tryouts will be held October 20-22 in the cafeteria. All paperwork MUST be turned in by October 19 or you will NOT be allowed to try out. Late paperwork will NOT be accepted. See Coach Jordan if you have any questions.
PREVIOUS POSTS
Attention Seniors: This year's College Fair will be a virtual webinar with over 160 colleges represented! Go to the Guidance Office Classroom and register for one of the mini-fairs scheduled for October 5-7 and November 2, 4-5. Don't miss this big opportunity!
AFTER SCHOOL
Softball plays at home tonight. Make plans to stay after school and support our Lady Lions!
DUES & DEADLINES
Yearbook Sales: $75; see Ms. Monica Smith.
Senior Fees: $150; see Linda Morris.
Junior Dues: $100; see Ms. Perryman.
It's a great day to be a Central Lion and let's remember the three (3) 'Ps"; Patience, Positivity and Peace!