Wednesday, September 16, 2020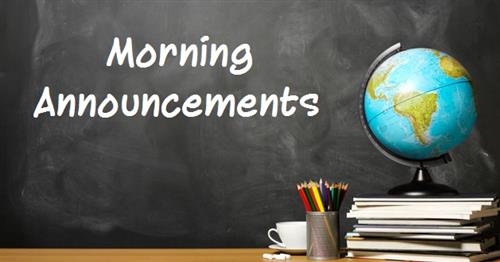 ---
Central High School
Announcements for Wednesday, September 16, 2020
The mission of Central High School is to provide all students with educational opportunities through a challenging curriculum which meets the needs of a diverse school community.
Teachers -- Please check dress code, have students toss all food and drinks from outside vendors, spit out gum and remove all head gear. Put cell phones away as you enter class. Students may NOT wear earbuds or headphones in the hallways.
Attention Students: There is a runoff for Homecoming Court for 9th grade girls, 11th grade girls, and both boys and girls 12th grade. The runoff will take place during lunch today. Mr. Griffis will announce the final list of Court members between 6th and 7th periods today. Look for runoff QR Codes in English teacher Classrooms, in the cafeteria, and in the Media Center.
There will be a meeting in the Media Center tomorrow morning at 7:45 a.m. and at 3:35 p.m. for both male and female Homecoming Court members. You are required to attend one of these meetings.
SHOUT OUT
Today's big shout out goes to the Varsity Volleyball Team for decimating Troup County last night. The ladies followed that trouncing with another win against LaGrange. Both were outstanding team victories! Great job ladies!!
NEW NEWS
Attention Seniors: Fees are currently $125, which pays for your cap and gown, diploma, diploma cover, tassel, program, and more. See Linda Morris in the Media Center to pay your fees today! Fees increase to $150 on September 30.
Interact Club will host its first meeting tomorrow morning in the 3-story atrium on the 500 hall. Bring your Chromebook for the 7:50 a.m. meeting.
FFA is having our first meeting tomorrow after school in the Ag department. Make arrangements to stay and join the meeting!
If you missed this morning's Key Club meeting, join us after school in the 700 hall atrium with your Chromebook.
Swim Team paperwork is due in the main office by Friday!
Central High School is hosting a blood drive tomorrow. There is a critical blood shortage nationwide and this is an opportunity for Central High School to give back to our local and extended community. With COVID guidelines, this blood drive is for students and teachers only and if you are 16 or older you are encouraged to give blood. Each blood donor will receive two (2) hours of volunteer time, a Chick-Fil-A meal card and a free t-shirt. Please stop by the school nurse clinic and sign up today!
PREVIOUS POSTS
Homecoming is right around the corner! Check out the online tee shirt store and purchase your class homecoming shirt TODAY! Go to the school website, click the Student button and Student Events for the link.
AFTER SCHOOL
Softball plays in Newnan tonight. Good luck ladies!
DUES & DEADLINES
Yearbook Sales: $65; see Ms. Monica Smith.
Senior Fees: $125; see Linda Morris.
Junior Dues: $100; see Ms. Perryman.
It's a great day to be a Central Lion and let's remember the three (3) 'Ps"; Patience, Positivity and Peace!