Thursday, October 1, 2020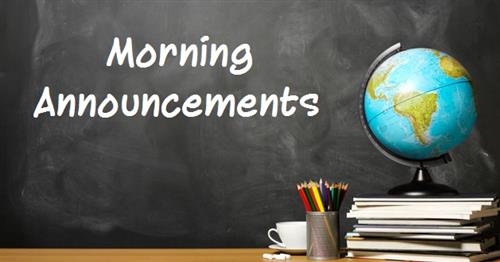 ---
Central High School
Announcements for Thursday, October 1, 2020
The mission of Central High School is to provide all students with educational opportunities through a challenging curriculum which meets the needs of a diverse school community.
Teachers -- Please check dress code, have students toss all food and drinks from outside vendors, spit out gum and remove all head gear. Put cell phones away as you enter class. Students may NOT wear earbuds or headphones in the hallways.
We will have advisement today during 3rd period. Lessons can be accessed using your Guidance Office grade-level Google classroom. If you have not yet joined this Google classroom, you can find your class code on the Central High website by accessing the Guidance Office page found under "Academics".
SHOUT OUT
Today's big shout out goes to the Lady Lions Softball Team for winning one of the two games played last night. The girls played the 2nd time defending state champions winning the second game 8-5 and losing the first game 1-0. The ladies are at home for game three today after school. This game decides which team will win the series. Be sure to come out and support our fabulous softball team! Game time is 5:00 p.m.
NEW NEWS
Homecoming tee shirts will be available for pickup from Ms. Martin in her room 727 during 6th and 7th period.
There's still time to join Best Buddies. Contact Ms. Hanson for more information!
PREVIOUS POSTS
Attention Seniors: This year's College Fair will be a virtual webinar with over 160 colleges represented! Go to the Guidance Office Classroom and register for one of the mini-fairs scheduled for October 5-7 and November 2, 4-5. Don't miss this big opportunity!
AFTER SCHOOL
Check the school calendar for games scheduled for tonight. Volleyball, 9th grade football and softball all play at home in Lion Valley!
DUES & DEADLINES
Yearbook Sales: $75; see Ms. Monica Smith.
Senior Fees: $150; see Linda Morris.
Junior Dues: $100; see Ms. Perryman.
It's a great day to be a Central Lion and let's remember the three (3) 'Ps"; Patience, Positivity and Peace!