Thursday, October 8, 2020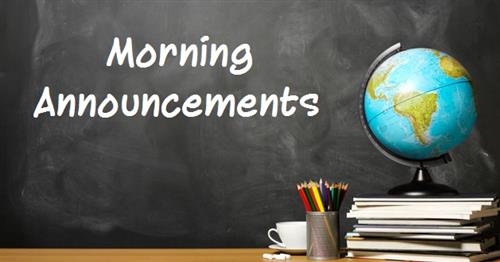 ---
Central High School
Announcements for Thursday, October 8, 2020
The mission of Central High School is to provide all students with educational opportunities through a challenging curriculum which meets the needs of a diverse school community.
Teachers -- Please check dress code, have students toss all food and drinks from outside vendors, spit out gum and remove all head gear. Put cell phones away as you enter class. Students may NOT wear earbuds or headphones in the hallways.
NEW NEWS

The guidance office is giving away free reusable water bottles! Stop by and get yours today!
Hey, students! Remember last year when Avree McGinnis won a $50 Chick-fil-A gift card because she bought her yearbook before Halloween? Guess what? You have that opportunity again! Buy your yearbook by October 30 to be entered in a raffle for a $50 gift card to Chick-fil-A! You can order online or drop your payment off with Mrs. Foley in the main office. Look for the online link from the yearbook page on the school website.
All students taking the Spanish Test Out exam need to report to room 140 at the beginning of 3rd period in order to complete the test.
Art Club will meet today after school in room 400. Everyone is welcome to join!
Interact Club is still raising money to fight polio! Turn in your donation to your first period teacher and win a Dunkin' Donuts party!
Attention students interested in joining FBLA: Please bring your dues to RM 607 by tomorrow.
Students interested in participating in basketball cheerleading can be picked up paperwork this week in between classes in 403. Tryouts will be held October 20-22 in the cafeteria. All paperwork MUST be turned in by October 19 or you will NOT be allowed to try out. Late paperwork will NOT be accepted. See Coach Jordan if you have any questions.
It's time for our students to register for their AP Exams. The website for ordering the exams can be found by going to chs.carrollcountyschools.com, click the round button that says "Guidance" . Then scroll down to where you see "2021 AP Exam Registration". This website explains the cost for exams along with payment instructions. Please be aware that once students pay for exams, no money can be refunded, even if he/she decides he/she no longer wants to take the exam unless CollegeBoard agrees to refund your money to us due to Covid-19 like they did last year. Any additional exams can be ordered after this deadline cost an additional $40.00 each. The only exception is for a student who registers for a block AP course that begins in January. Please note that there is a two-step process for registering your students for these exams. First, your students must JOIN his/her AP® Class accounts on the MyAP Site at https://myap.collegeboard.org and indicate the exam decision. Second, visit http://aptsusa.com/centralhsga and select "Advanced Placement (AP*)" to pay for the exam(s). Please remember that the deadline for ordering AP exams is Tuesday, November 3, 2020. Thank you.
PREVIOUS POSTS
Attention Seniors: This year's College Fair will be a virtual webinar with over 160 colleges represented! Go to the Guidance Office Classroom and register for one of the mini-fairs scheduled for October 5-7 and November 2, 4-5. Don't miss this big opportunity!
AFTER SCHOOL
Volleyball travels to Newnan, JV football travels to Villa Rica, and softball travels to Pickens County today. Make the short drive and support your Lions!
DUES & DEADLINES
Yearbook Sales: $75; see Ms. Monica Smith.
Senior Fees: $150; see Linda Morris.
Junior Dues: $100; see Ms. Perryman.
It's a great day to be a Central Lion and let's remember the three (3) 'Ps"; Patience, Positivity and Peace!