Monday, September 14, 2020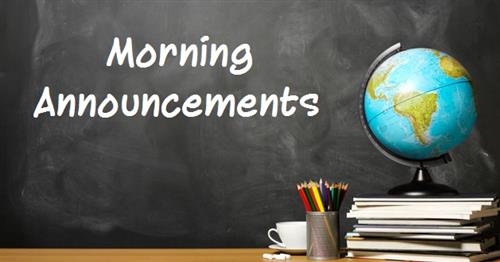 ---
Central High School
Announcements for Monday, September 14, 2020
The mission of Central High School is to provide all students with educational opportunities through a challenging curriculum which meets the needs of a diverse school community.
Teachers -- Please check dress code, have students toss all food and drinks from outside vendors, spit out gum and remove all head gear. Put cell phones away as you enter class. Students may NOT wear earbuds or headphones in the hallways.
SHOUT OUT
Today's super big shout out goes to the Varsity Lady Lions Cross Country team for taking home a second place trophy at the Strong Rock Christian Invitational in Locust Grove by edging out Alexander by 5 points. The varsity girls were led by medalist Lucy Barker and Anna Ayers both placing in the top 10. The Junior Varsity Lady Lions took a comfortable first place overall with Mallory Rose, Payton Bryan, Cadie Kilgore, and Gracie Warren leading the race in the top 10. Kudos to Gracie Warren, Benjamin Haralson, and Gavin Navarro who all ran a personal record this weekend. Great job guys!
NEW NEWS
FFA is having our first meeting Thursday after school in the Ag department. Make arrangements to stay and join the meeting!
Key Club will host its first meeting of the year on Wednesday at 7:45 a.m. and 3:35 p.m. Plan to attend one of these meetings and bring your Chromebook. The meeting will take place in the 700 hall atrium! See you there!
If you received a Spanish Test Out form, these forms must be turned into Ms. Zerr in room 708 by Tuesday, September 15, in order to participate in October.
Any student interested in being on the swim team should stop by the front office and pick up an information sheet. Friday is the deadline to sign up for swimming.
If you missed the morning meeting, Bass Team meets in room 414 after school.
PREVIOUS POSTS
Homecoming is right around the corner! Check out the online tee shirt store and purchase your class homecoming shirt TODAY! Go to the school website, click the Student button and Student Events for the link.
The blood drive is this Thursday during school. See Ms. Startup in the clinic to sign up!
AFTER SCHOOL
Softball is home tonight against LaGrange. Make plans to stay after school and support our ladies!!
DUES & DEADLINES
Yearbook Sales: $65; see Ms. Monica Smith.
Senior Fees: $125; see Linda Morris.
Junior Dues: $100; see Ms. Perryman.
It's a great day to be a Central Lion and let's remember the three (3) 'Ps"; Patience, Positivity and Peace!