Tuesday, September 15, 2020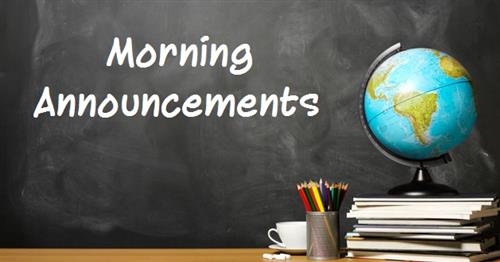 ---
Central High School
Announcements for Tuesday, September 15, 2020
The mission of Central High School is to provide all students with educational opportunities through a challenging curriculum which meets the needs of a diverse school community.
Teachers -- Please check dress code, have students toss all food and drinks from outside vendors, spit out gum and remove all head gear. Put cell phones away as you enter class. Students may NOT wear earbuds or headphones in the hallways.
Today, during lunch, nominations for Homecoming Court will be open. Look for the QR Code in English teacher classrooms, in the cafeteria and Media Center. Virtual students can vote through the school website under Students, Student Events and Homecoming.
SHOUT OUT
Today's super big shout out goes to The JV volleyball team played well in a Varsity tournament on Saturday. They won 6 sets while only losing 2 sets. They will compete again next Saturday in another Varsity tournament. Mikya Long was recognized as an outstanding player for the tournament as voted on by the coaches.
NEW NEWS
FFA is having our first meeting Thursday after school in the Ag department. Make arrangements to stay and join the meeting!
Key Club will host its first meeting of the year on Wednesday at 7:45 a.m. and 3:35 p.m. Plan to attend one of these meetings and bring your Chromebook. The meeting will take place in the 700 hall atrium! See you there!
Homecoming Court selections will be announced tomorrow morning. Male and female Court members will be required to attend one of two meetings scheduled for Thursday in the Media Center. You may attend before school at 7:45 a.m. or after school at 3:35 p.m.
If you received a Spanish Test Out form, these forms must be turned into Ms. Zerr in room 708 by Tuesday, September 15, in order to participate in October.
Any student interested in being on the swim team should stop by the front office and pick up an information sheet. Friday is the deadline to sign up for swimming.
Central High School is hosting a blood drive this Thursday. There is a critical blood shortage nationwide and this is an opportunity for Central High School to give back to our local and extended community. With COVID guidelines, this blood drive is for students and teachers only and if you are 16 or older you are encouraged to give blood. Each blood donor will receive two (2) hours of volunteer time, a Chick-Fil-A meal card and a free t-shirt. Please stop by the school nurse clinic and sign up today!
PREVIOUS POSTS
Homecoming is right around the corner! Check out the online tee shirt store and purchase your class homecoming shirt TODAY! Go to the school website, click the Student button and Student Events for the link.
AFTER SCHOOL
Volleyball travels to Fayette County today. Good luck ladies!!
DUES & DEADLINES
Yearbook Sales: $65; see Ms. Monica Smith.
Senior Fees: $125; see Linda Morris.
Junior Dues: $100; see Ms. Perryman.
It's a great day to be a Central Lion and let's remember the three (3) 'Ps"; Patience, Positivity and Peace!