Wednesday, September 30, 2020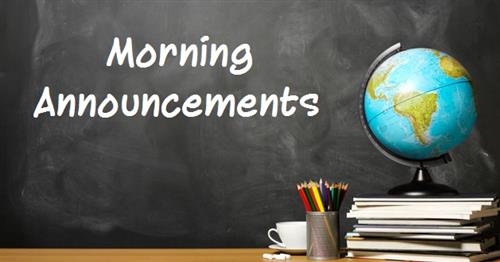 ---
Central High School
Announcements for Wednesday, September 30, 2020
The mission of Central High School is to provide all students with educational opportunities through a challenging curriculum which meets the needs of a diverse school community.
Teachers -- Please check dress code, have students toss all food and drinks from outside vendors, spit out gum and remove all head gear. Put cell phones away as you enter class. Students may NOT wear earbuds or headphones in the hallways.
Senior fees increase to $150 TOMORROW! See Ms. Morris in the Media Center to pay fees before the increase.
Homecoming Court practice is after school on the football field. If you miss practice, you will not participate in Homecoming Friday night.
SHOUT OUT
Today's big shout out goes to everyone who dressed in "This is how I woke up," Wednesday attire! Get ready for Thrifty or Tacky Thursday!!
NEW NEWS
The Pride Club will be meeting after school today in Mr. Conerly's room 725.
Today is the final day to sign up for the PSAT! Sign up in the guidance office.
There's still time to join Best Buddies. Contact Ms. Hanson for more information!
PREVIOUS POSTS
Attention Seniors: This year's College Fair will be a virtual webinar with over 160 colleges represented! Go to the Guidance Office Classroom and register for one of the mini-fairs scheduled for October 5-7 and November 2, 4-5. Don't miss this big opportunity!
AFTER SCHOOL
Softball plays at Heritage in a double-header tonight! Good luck ladies! Southland Sports TV will be broadcasting the volleyball game at Carrollton LIVE tonight. Check the website and volleyball page for the link.
DUES & DEADLINES
Yearbook Sales: $65; see Ms. Monica Smith.
Senior Fees: $125; see Linda Morris. FEES INCREASE TOMORROW!
Junior Dues: $100; see Ms. Perryman.
It's a great day to be a Central Lion and let's remember the three (3) 'Ps"; Patience, Positivity and Peace!