Monday, October 19, 2020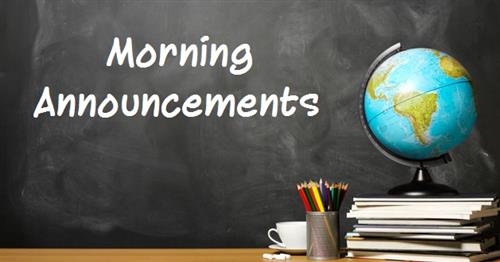 ---
Central High School
Announcements for Monday, October 19, 2020
The mission of Central High School is to provide all students with educational opportunities through a challenging curriculum which meets the needs of a diverse school community.
Teachers -- Please check dress code, have students toss all food and drinks from outside vendors, spit out gum and remove all head gear. Put cell phones away as you enter class. Students may NOT wear earbuds or headphones in the hallways.
SHOUT OUT
Today's first super big shout out goes to the Central Lions Football Team and Coaches! Congratulations on cleaning up the field with NW Whitfield Friday night! The final score was 52-35 with Narada Levett making 4 touchdowns, and Beau Ivy, Corbin Waldrop, Vicari Swain, and Cameron Edge all making one touchdown each. It was a great game! The Lions travel to Heritage this weekend!
Our second shout out goes to the Marching Pride for their award winning performance on Saturday. The Pride earned all Superior Ratings, First in Class and First Overall Drum Major, Color Guard, Percussion and Band, Best Front Ensemble, Best Props, the Paul Ramsey Highest Music Score and the Overall Grand Championship at the Golden River Marching Competition at Haralson County High School. This win marks the 50th Grand Championship earned by the Marching Pride. Go Pride Go!
Our third shout out goes to the varsity volleyball team for winning the area championship by beating Troup County on Tuesday and Fayette on Thursday. They will now host the first round of the state tournament.
Our fourth shout out goes to Savannah Walker, Kaylee Crook, and Ashlee Peek who were each named All Area players. Great job ladies!!!
Our final shout out goes to the Interact Club and 1st period classes for participating in their recent fundraiser. The Interact Club wishes to thank everyone for helping us raise over $575 to help eradicate polio! The winning first period is.....Mrs. Thornton's class. Congratulations!
PREVIOUS POSTS

If you are interested in volunteering with the Carroll County Board of Elections on election day, you have until tonight to register. Stop by the guidance office for more information.
Basketball tryouts will take place Wednesday, October 29 from 6:00-8:00 p.m. You must be in good academic standing with an updated physical in-hand. No physical - No Tryout. Sign up as limited tryout spots are available. Please only signup if you are serious about playing hard and are not currently playing football. Football player tryouts for basketball will take place at a later time.
Basketball cheerleading paperwork is due TODAY! Tryouts are tomorrow through Thursday and paperwork must be on file to participate. See Coach Jordan if you have any questions.
Order your yearbook online and your name will automatically be added to a drawing for a $50 gift card!
It's time for our students to register for their AP Exams. The website for ordering the exams can be found by going to chs.carrollcountyschools.com, click the round button that says "Guidance" . Then scroll down to where you see "2021 AP Exam Registration". Check the website for payment instructions and test information. The deadline for ordering AP exams is Tuesday, November 3, 2020.
AFTER SCHOOL
Softball plays at home in a double-header state playoff round. Be sure to stay after school and support our Central Lady Lions! Good luck girls!
DUES & DEADLINES
Yearbook Sales: $75; see Ms. Monica Smith.
Senior Fees: $150; see Linda Morris.
Junior Dues: $100; see Ms. Perryman.
It's a great day to be a Central Lion and let's remember the three (3) 'Ps"; Patience, Positivity and Peace!